by Jay Wolf (Brad Conrad photos)
The 2021 Little Brown Jug was an instant classic thanks to heart-stopping stretch duel between Perfect Sting (David Miller) and Lou's Pearlman (Yannick Gingras). The photo finish showed that Lou's Pearlman won the 76th edition of the pacing classic by a nose Thursday evening (September 23) at the Delaware County Fairgrounds.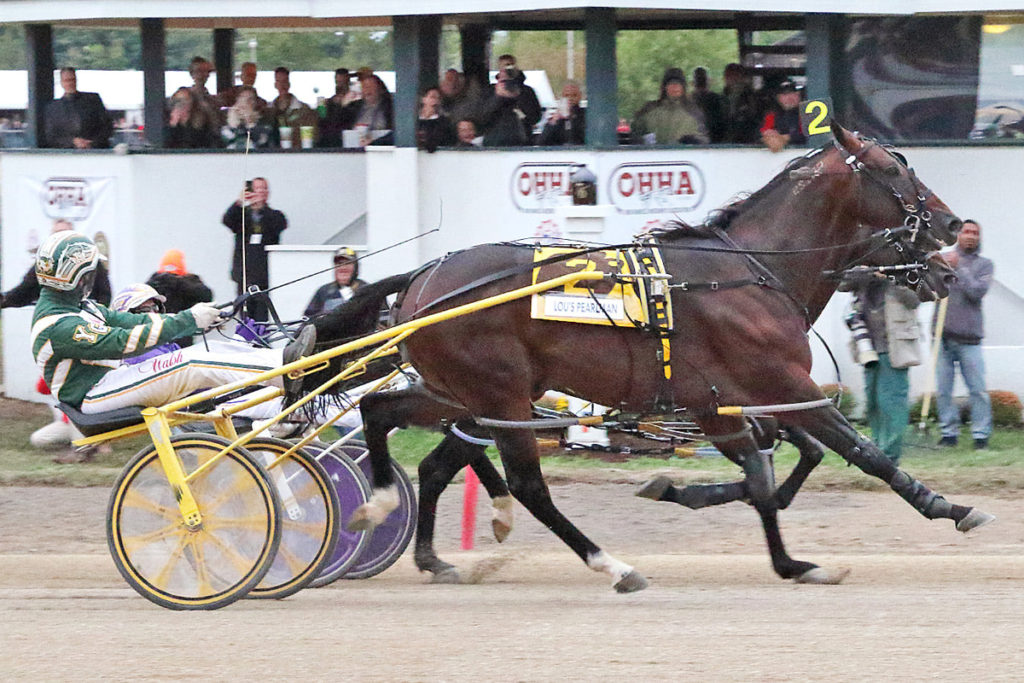 As the field of eight were set on their way for the $397,080 final heat, Perfect Sting protected his rail position, forcing the eventual winner into a potential pocket trip. Perfect Sting led past the quarter in :28.1
I'll Drink To That (Tim Tetrick) was the first to move past the three-eighths mile pole, forcing Gingras and Whichwaytothebeach (Andrew McCarthy) to make a decision to stay on the rail or move to the outside.
Gingras was not content to sit in the pocket and pulled the eventual winner first up at the half in :57.1.
Perfect Sting and Lou's Pearlman paced in tandem past the three-quarters in 1:25.1. The pair hit the line seemingly together in 1:52.4, which was affected by the cold winds and 'good' surface.
Whichwaytothebeach held on to third and I'll Drink To That was fourth.
Lou's Pearlman gives driver Yannick Gingras and trainer Ron Burke their third Jug titles – they teamed up with Filibuster Hanover (2017) and Limelight Beach (2014).
The homebred son of Sweet Lou is owned by Burke Racing Stable, Weaver Bruscemi, Elizabeth Novak and Howard Taylor.
"This little guy was tough today," noted Gingras. "All credit goes to the Burke Brigade. They had him good for a month now."
"I have a lot of faith in this colt," said Burke. "I would rather go for the win than be locked in, finishing second and talking about what could have happened. So, I am proud of him. He raced great. It was a perfect day."
In the first elimination, Lou's Pearlman and Whichwaytothebeach battled for more than a half-mile, but it was Lou's Pearlman that gutted out a 1 3/4 length victory in 1:54. Whichwaytothebeach held on to second and Mysweetboymax (Aaron Merriman) and Town Gossip (Joe Bongiorno) rounded out the superfecta and advanced to the final.
The second elimination went to Perfect Sting, who used a first over move, clearing the lead before the three-quarter mile pole and held off a late charge of I'll Drink To That to win by a half-length in 1:54.1. Water Sports Teen (Joe Bongiorno) and Bayfield Beach (Yannick Gingras) finished third and fourth, to move to the final.
The Jug win caps off a memorable week for trainer Ron Burke. Burke was elected into the Harness Racing Hall of Fame earlier in the week and won a record 13 races during the five-day meet, including the $253,800 Jugette on Wednesday.
Photo by Brad Conrad Photos